Our up to date inventory is displayed on the shop link. Also, keep up with our Facebook page and Instagram page.
NEWS:
August 15, 2023: A few new MID Sized Friction Top boxes are now listed in the shop link. AND… our last outdoor Summer market this season is Labor Day Weekend: Saturday September 2 @ 9am-3p in Fort Qu'Appelle. At Hansen Ross House – 298 Bay Ave.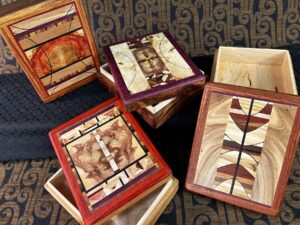 July 10, 2023: New FULL Size Friction Top boxes in our inventory…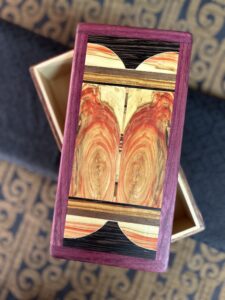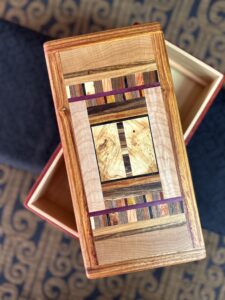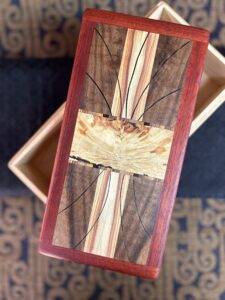 June 25, 2023: Our first live market os the summer is this Saturday July 1 in Fort Qu'Appelle – in front of Hansen Ross (298 Bay Ave) from 9a-3p. Lots of Canada Day fun in town, including parade, Farmer's Market, evening fireworks, and tons more.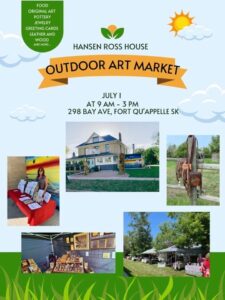 April 28, 2023: It's always fun to introduce new creations to the world. Today we have four new FULL-Size Friction Top boxes…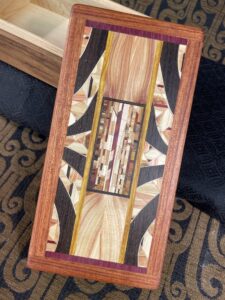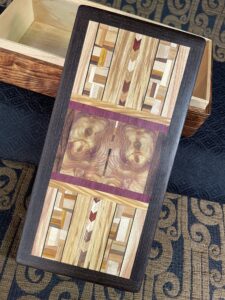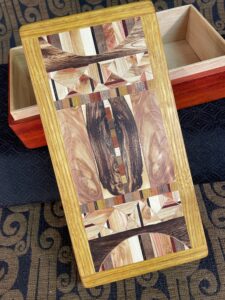 April 5, 2023: SASKATOON – Sunday April 16, 2023 – 10a-3p. Brian Baggett Wood Craft will be set up with the Etsy SK "Hello Spring" Pop Up Market. At the Saskatoon Farmers' Market – 2600 Koyl Ave.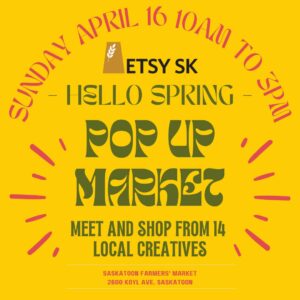 April 5, 2023: Check out these new MINIs in the shop, or on the Friction Top Mini listing.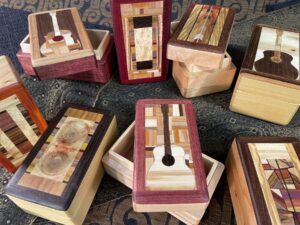 March 26, 2023: We have Tea boxes in our inventory. See the Tea Box link for information or the inventory page.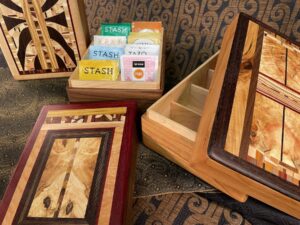 March 3, 2023: Dice Tower/Tray Sets are back in stock. See our Dice Tower page for details and inventory.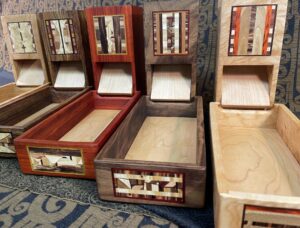 February 14, 2023: The first new boxes for 2023 are now listed. Our inventory is starting to build up for summer markets. As always, all items in the shop are available worldwide for mail order.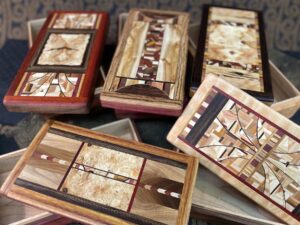 November 20, 2022: Our ONLY live table market of the season is in Regina, SK…Saturday Nov 26, 2p-7p at the Regina German Club during their Christkindl Market. Come say hi! These new MID-Sized Friction Top boxes will be available…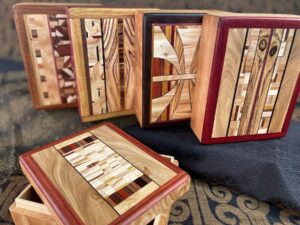 November 13, 2022: Nine new Friction Top MINIs are available!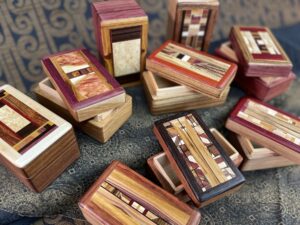 October 18, 2022: Some new Full-Size Friction Top boxes have been added to the shop page.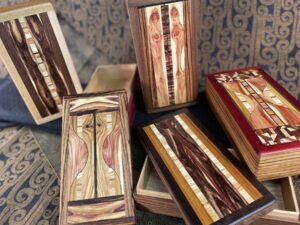 September 8, 2022: We are very pleased to announce…Brian Baggett Wood Craft items can now be found at the Yvette Moore Gallery in Moose Jaw. We are so very thankful to ALL of the patrons of our work over the past 6 years who have brought us to this next step! Yvette Moore Gallery, located at 76 Fairford Street West, Moose Jaw, Saskatchewan – yvettemoore.com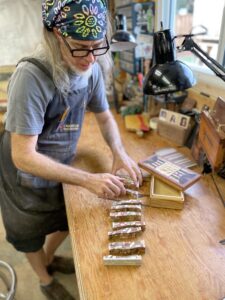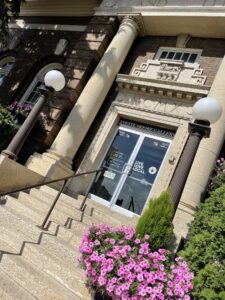 June 9, 2022: Our summer market schedule…
June 25: Summer Solstice Market – Regina German Club 2p-6p
July 1: Pelican Art Festival – Hansen Ross in Fort Qu'Appelle
July 30: MID Summer's Art Festival – Fort Qu'Appelle
Sept 3: TBA
MID-Sized Friction Top boxes (like these)…for when you don't want to spend too much, but you don't want to be cheap either.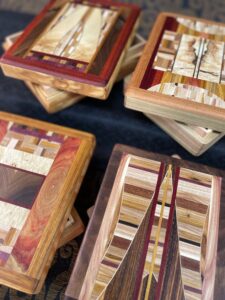 April 26, 2022: Read about our first installation piece in our Custom Gallery.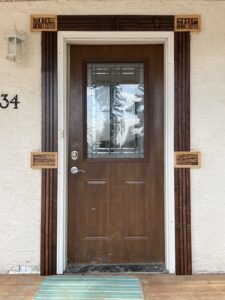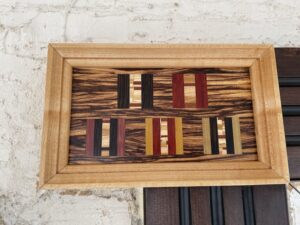 April 25, 2022: MORE new inventory, with these Friction Top MINI boxes.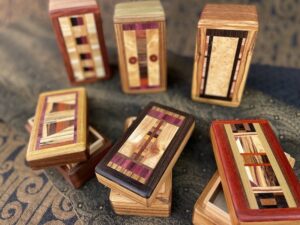 April 19, 2022: New Full-Size Friction Top boxes are in the shop.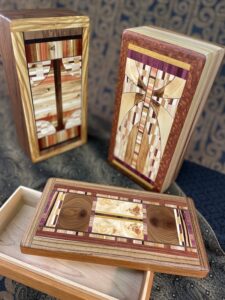 February 26, 2022: New item in stock. Dice Towers and Tray Sets are a 2-piece set. Tower measures at 9 x 9 x 20 cm. Tray at 22 x 10.5 x 6 cm. Currently, two sets in stock. Read more here.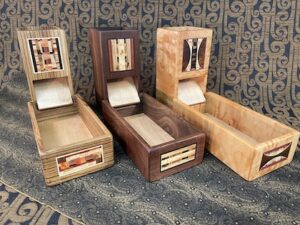 January 31, 2022: Check out our current Chapman Stick Lap Bar inventory. 5 different wood models available (Padauk, Zebrawood, Lacewood, Walnut, Birdseye Maple)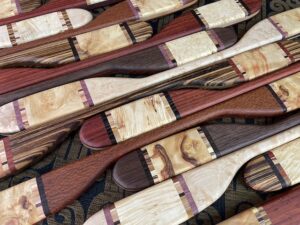 January 9, 2022: Our first items of 2022…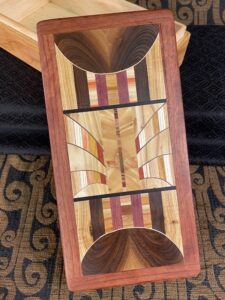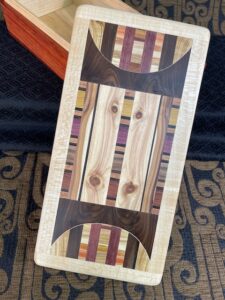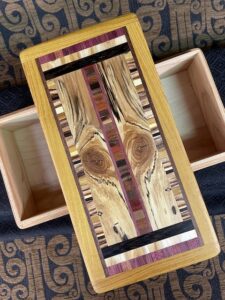 December 24, 2021: We are currently out of Chapman Stick Lap Bars. More are coming in Jan/Feb 2022. Meanwhile, check out this entertaining video by Thierry Carpentier (France) featuring our Lap Bar!
October 1, 2021: View our new Chapman Stick Lap Bar page.
September 28, 2021: Sometimes wood has an image within it that heavily suggests what it is to become…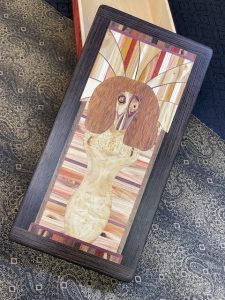 September 1, 2021: We'll be at the Hansen-Ross Gallery in Fort Qu'Appelle this Saturday 9a-4p for their Outdoor Art Market. Here's some new MID-Sized Friction Top boxes that will be featured…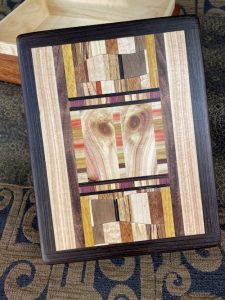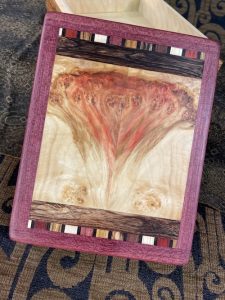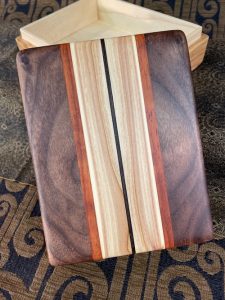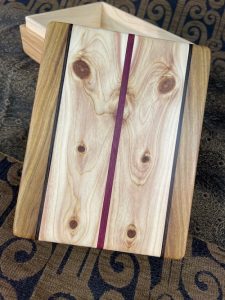 August 21, 2021: Here's a unique item…do you play Chapman Stick?!? Ever consider using a lap bar instead of a belt for your Stick's belt hook? We have made a small production run. Check them out HERE. 
July 21, 2021: New Friction Top MINIs. Always a fun, affordable gift.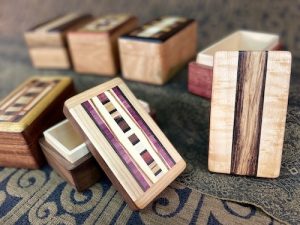 July 19, 2021: Visit our new page dedicated to Cremation Urns.
June 16, 2021: Brian was recently featured on SaskTel Max TV's artist profile series for both his music and wood art – 
June 4, 2021: A new selection of MID Sized Friction Top boxes: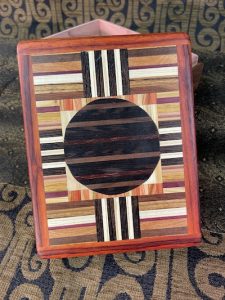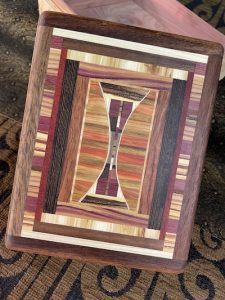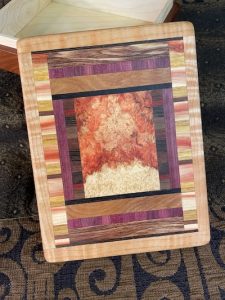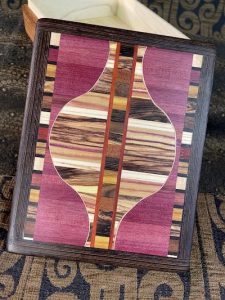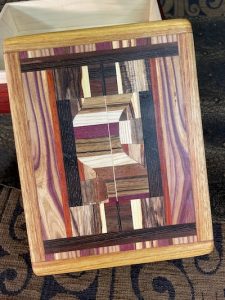 April 25, 2021: Always new items in the shop…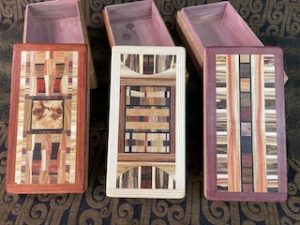 April 6, 2021: Three new Full Size Friction Top boxes are in the shop now.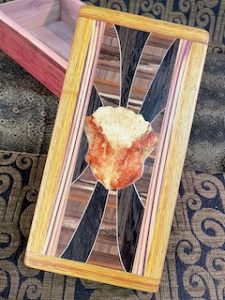 March 4, 2021: MINIs!! New ones, some with aromatic cedar interiors…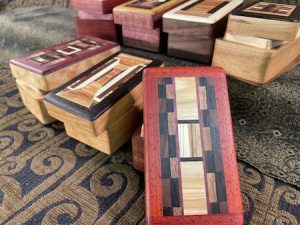 February 21, 2021: To step outside of the box, first you must start with…a box. New MID-Size Friction Top boxes in the shop. Calming, personal art pieces for your home.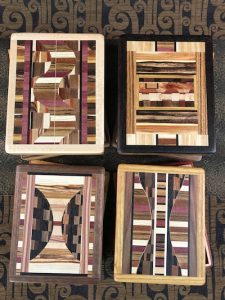 February 12, 2021: New item! Tea boxes. Originally a one-off custom design for three daughters of a patron over the holidays, these tea boxes gained much attention. Featuring 8 interior channels for upright tea bags. 24×15.5×9.5cm (9.5x6x4″). Time for tea…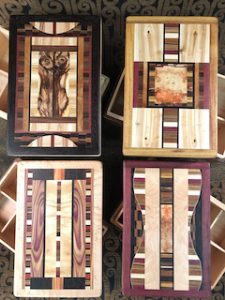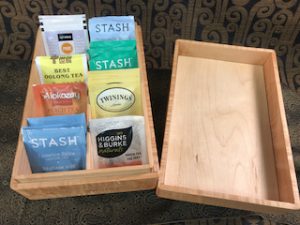 January 27, 2021: New Full-Size Friction Top boxes for 2021 in the shop.
January 26, 2021: Check out this framed mosaic art Brian created. Details in the Custom Gallery.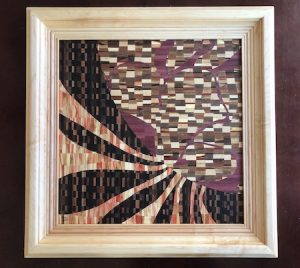 December 23, 2020:
I've always believed that the best things grow out of least-likely situations. Strength from adversarial times, so to speak. We wouldn't wish a global pandemic on anyone. But if we come out stronger in the end, then we'll take that as a win.
Artists have suffered the most financially. We here at Brian Baggett Wood Craft are thankful! Not only did we have a SEVEN FOLD increase with online sales compared to 2019, we also had numerous custom orders and creative challenges…all of which wouldn't have happened during a regular year of live market inventory upkeep. OF COURSE, we miss the face to face markets. But they will return in due time. Meanwhile, new creations were attempted.
MANY THANKS to all of you who have generously supported our art during challenging times. Please continue to support your local artisans, musician, and crafts people. Al the best to you in 2021.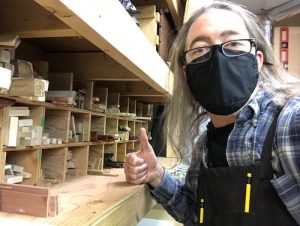 November 13, 2020: The flower series. Mid Sized Friction Top boxes with flower motifs. Birdseye Maple (Purple flower), Yellow Tarara (Orange flower), Walnut (pink flower).
October 21, 2020: Four new Full-Size Friction Top boxes, our flagship model size. Every item we create is one of a kind and unique!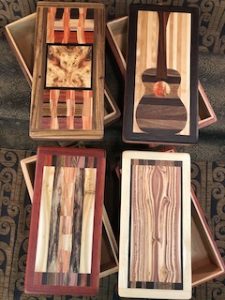 October 10, 2020: Regina area residents take note…all shipping is FREE for you! Brian is in Regina once a week (minimum) between now and Christmas holidays. Any order from our website can be hand delivered to your door. Just click "Local Delivery" on your cart page when you order. OR…
If you'd like to select from several in person, Brian can be masked up and bring whatever selection you choose for your viewing. Just message this page, or email baggetthouse@gmail.com
Payments can also be made locally via credit card, eTransfer, or cash (sorry, no debit cards at this time).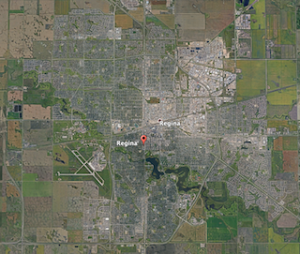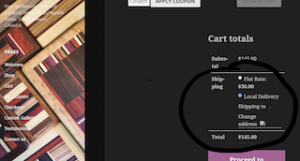 September 23, 2020: The popular Mid-Sized Friction Top design is back! Sized at 16×12.5×5 (paperback sized). There is a unique gift design for anyone…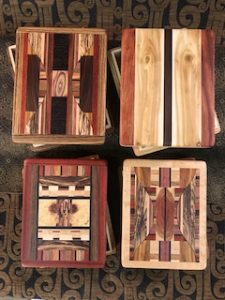 September 7, 2020: Our Full Size Friction Top boxes, the signature piece of our craft, are becoming more sought after by art lovers and collectors. These 9 1/2″ X 4 3/4″ X 2 1/2″ works are perfect show pieces, desk or bedside containers, and gifts. Check out our shop link for our current inventory, including these three new ones!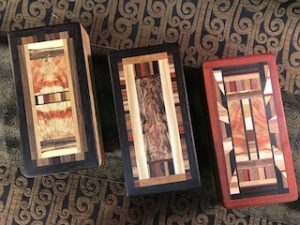 July 9, 2020: Due to Canada Post raising the rates of all parcels, our shipping charges have increased by 10-15%. Apologies! But this is due to COVID-19 and the worldwide increase in mail ordering. If you are located in Saskatchewan and see items in our shop that interest you, please contact us at baggetthouse@gmail.com – we could arrange for a local pick up or delivery. Thanks!
June 21, 2020: ALWAYS a unique, universal gift idea…5 New Friction-Top Mini boxes…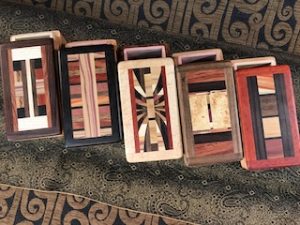 June 11, 2020: Come to the shop to check out our newest Full-Size Friction Top Boxes…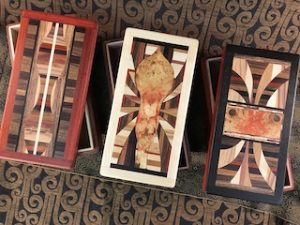 June 9, 2020: We've added a new Cremation Urn to our inventory. Built from choice Figured Maple and Rosewood. Find it in our shop link.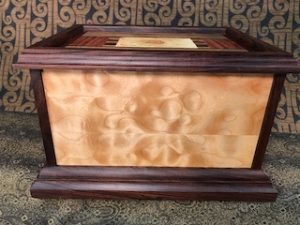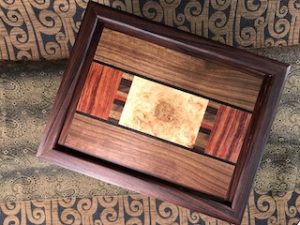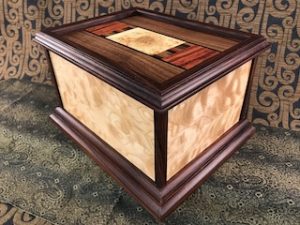 May 2, 2020: A whole new crop of Friction-Top Mini boxes are now available. Visit the shop link for details.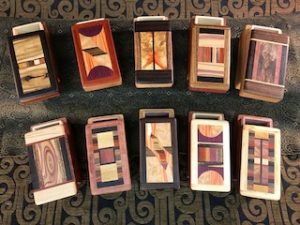 April 18, 2020:
MANY THANKS to those of you who have recently ordered online (or come to my driveway!). With all live markets canceled due to the COVID-19 pandemic, this may be the only way to sell these for the foreseeable future. Keep in touch with us via Facebook, Instagram (links above), or email baggetthouse@gmail.com – Here's three new Full Size Friction Top boxes…one with a Guitar mosaic, one with an hourglass motiff.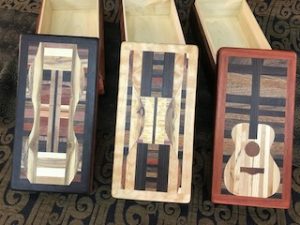 April 1, 2020: 
Check out these new Friction-Top Minis…some with our new unique, one of a kind image inset. Some with Aromatic Cedar interior!
March 25, 2020: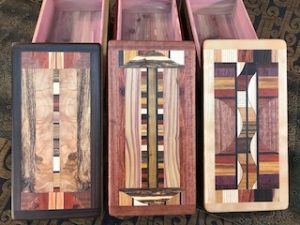 We're back for 2020, building our inventory for Summer & Fall markets! These three new Full Size Friction-Top boxes feature new laminate top designs outside the 'angular' world. Also…Aromatic Cedar interiors are now an option.
January 21, 2020: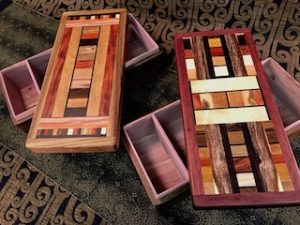 We recently completed a custom order and made a twin (for sale in the shop section). This is our first of it's kind with aromatic cedar interiors!
December 17, 2019: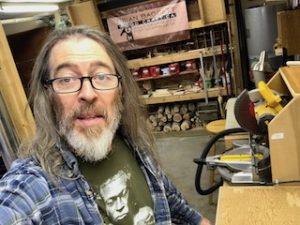 A big 2019 THANKS to all of you who supported our art by: 1) Liking, sharing, or commenting on our Facebook and Instagram posts.
2) Attending any of our live market events throughout the year.
3) Purchasing our art via live market or online order.
This was a really good year for us and we thank you. Our live markets for the season have ended. But our website always keeps a current inventory and online ordering option.
We have a few side projects & custom orders to take on this winter. Also…a new urn production will begin soon. Keep in through our facebook page, or email baggetthouse@gmail.com (Brian also makes regular trips to Regina and Saskatoon for those wanting to save on shipping).
November 18, 2019: In Saskatchewan, come see us at these markets:
Sat Nov 23 – Christkindl Markt at Regina's German Club 2-7p;
Sun Dec 1 – The Wren (at 'The Owl' – U of R) 10a-5p;
Sat Dec 7 – Etsy Regina (Science & Research Centre U of R) 10a-5p;
Sat Dec 14 – Etsy Saskatoon (High Key Brewing) 10a-5p