While juggling house-husband duties, getting kids off to school, and maintaining a musician identity, we can create most any custom order with enough advance notice. Contact Brian any time.
***
June 2023 –
Full-Size Friction Top box with Chapman Stick motif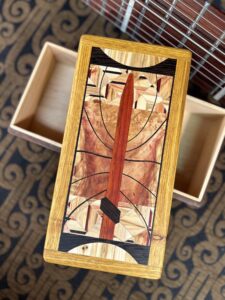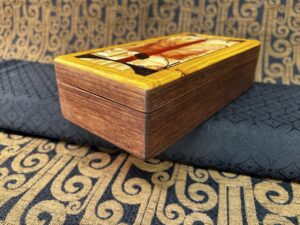 ***
December 2022 –
15 Custom Heirloom Boxes.
The bodies of these Full-Size Friction Top boxes were constructed from Maple lumber of a disassembled organ belonging to the patron's late parents. The friction top lids were created from a global array of hardwood species in Brian Baggett's style. These boxes will now be passed on to the patron's family members for generations to come! Thank you for letting us be part of this fun family gift.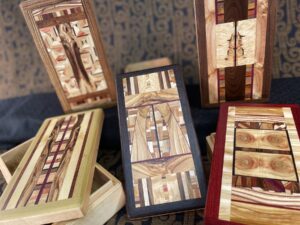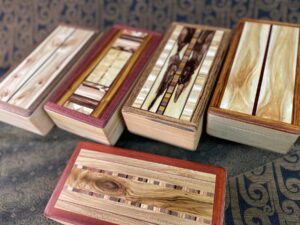 ***
April 2022 –
Custom exterior door frame.
The patrons had a new sewer line installed last summer, which led to a new deck, which led to needing a new exterior doorframe.
The mosaics in the top two framed pieces represents the five residents. Locally harvested Caragana serve as the backdrop for all four framed pieces.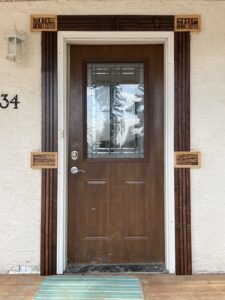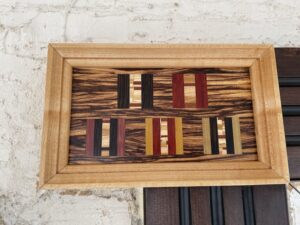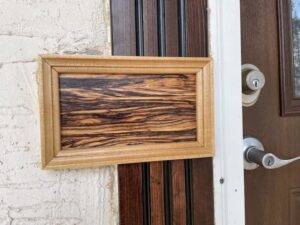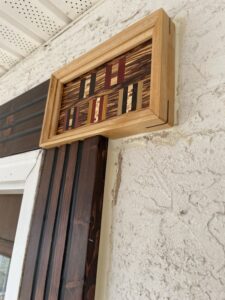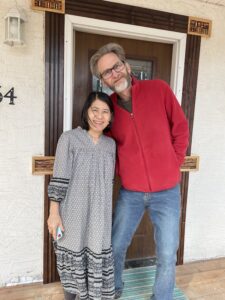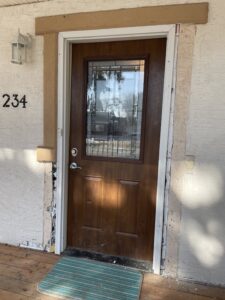 ***
December 2021 –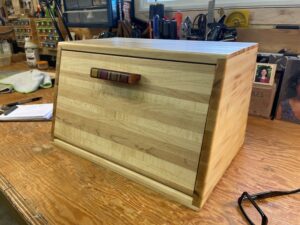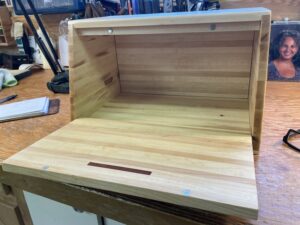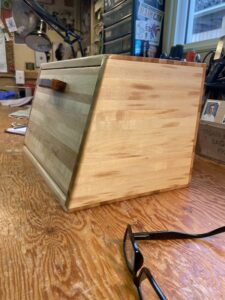 Bread Box. 40 x 26 x 24 cm. Maple laminate with African Mahogany mosaic handle.
***
March 2021 –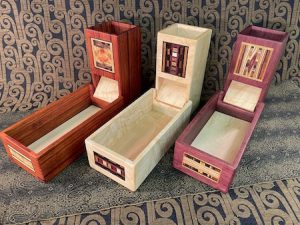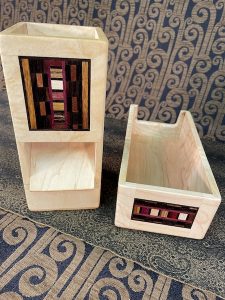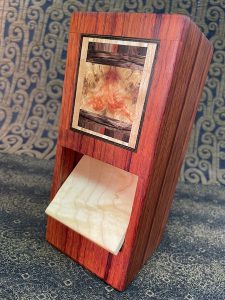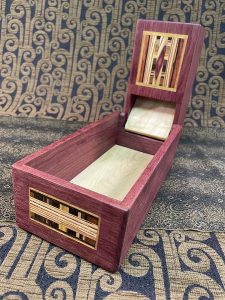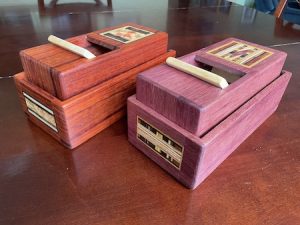 Dice Towers and matching Trays. A patron in Oklahoma custom ordered two sets: Purple Heart and Padauk. A common design with Brian Baggett's signature mosaic designs.
***
January 2021 –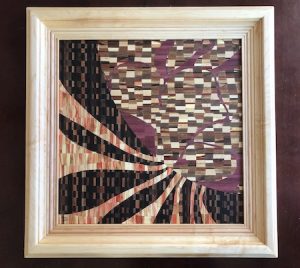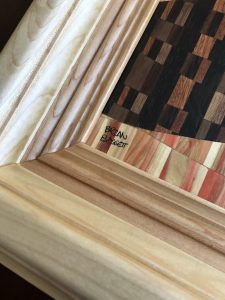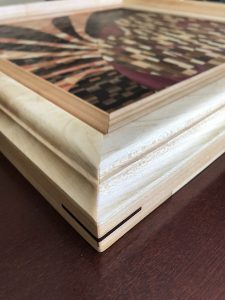 "Pangea Reversion" – 2021. 21.5″x21.5″ framed mosaic art
***
December 2020 – These custom items were ordered as christmas gift: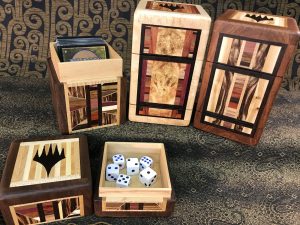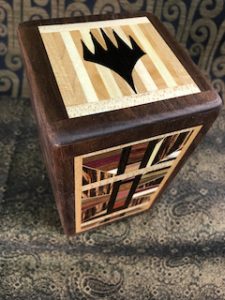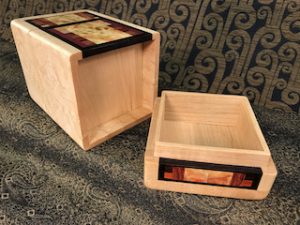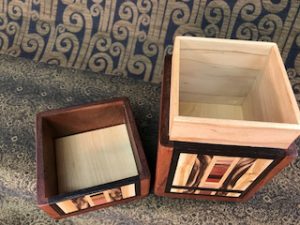 These three boxes (above) are for 'Magic: The Gathering", a popular card game. 9x9x17 cm with two friction top openings – the top for cards, bottom for dice.
***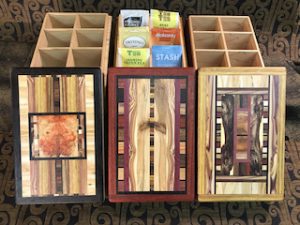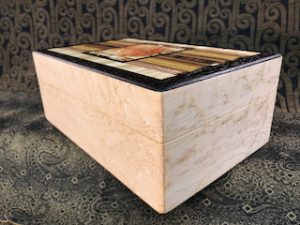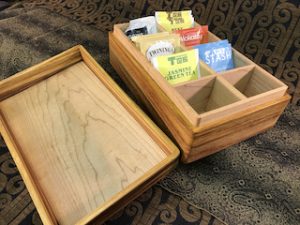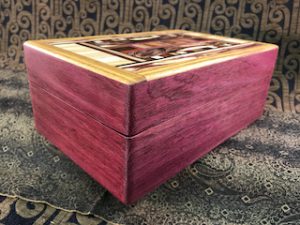 Tea boxes. 24×15.5×9 cm
***
August 2020 – This custom urn was ordered from a person in Eastern Saskatchewan to hold the remains of a close loved one. The patron had provided detailed descriptors of their loved one's life and a general drawing to use as a guide. We are so happy to create this as a resting vessel for the remains.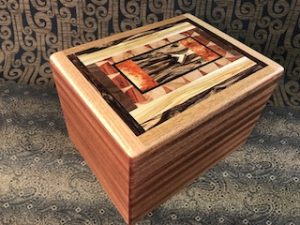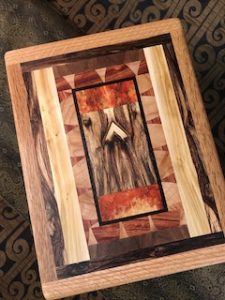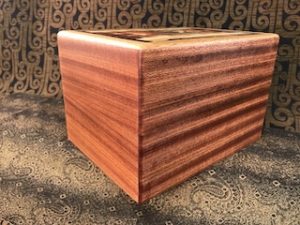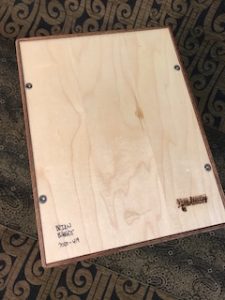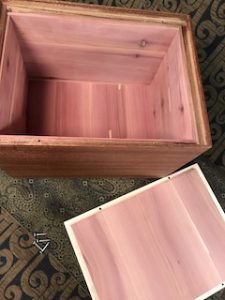 ***
July 2020 – This is the first of our urns to become the holding place of a dear loved one for a family in Texas. The family trusted our artistic interpretations and requested a sunflower motif that represents their daughter. We are so honored to have been part of this.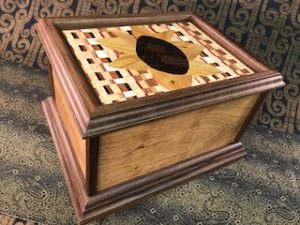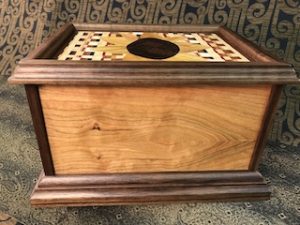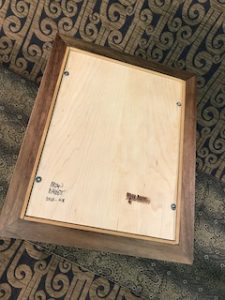 ***
June 2020 – We're happy to help couples celebrate their anniversaries!
This box was custom ordered by Brian's step-mother as a surprise for her sister and brother-in-law in New York. Several species of woods were requested for the Mosaic top, namely locally harvested Birch and Lilac.
To symbolize the time span of 50 years, Brian created an hourglass motif within the multi-coloured wood Mosaic design. The interior lid text was wood burned by Brian's daughter Dominique.
Happy 50th George & Edwina!
– Customized Full-Size Friction Top box of Figured Maple.
– 97-piece Mosaic top framed in Rosewood.
– Maple interior with custom wood burned text.
– 4-piece bottom.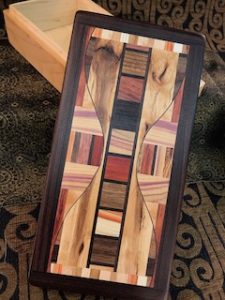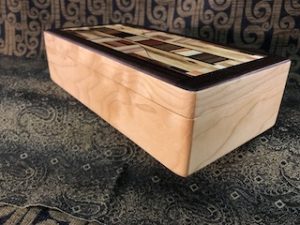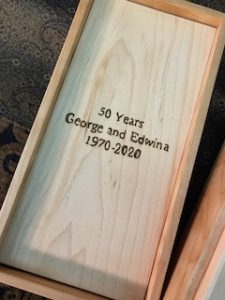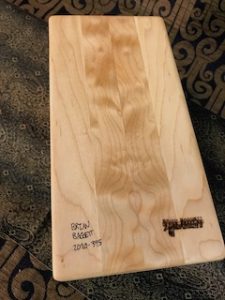 ***
May 2020 –
"Zia"
25" X 25"
Mosaic hardwood art
Solid Quilted Maple frame with Rosewood corner splines
Zia image of Wenge, with Burled Manitoba Maple.
Custom ordered framed art.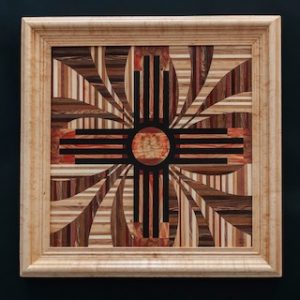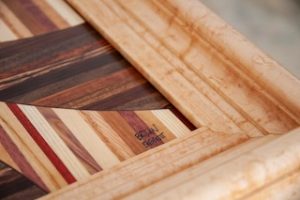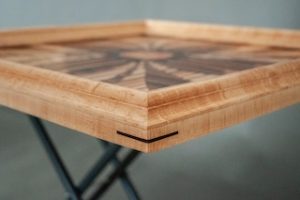 ***
April 2020 – We created a set of 8 book/brochure racks for the Fort Qu'Appelle Museum. Each are 36″ X 8″ X 4″. Installed side by side at 6 feet long and approximately 4 feet high. Hand made of Red Oak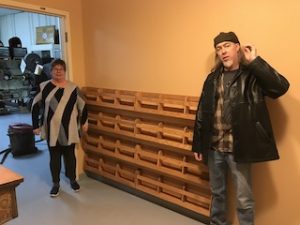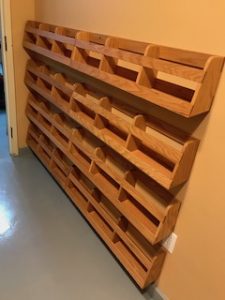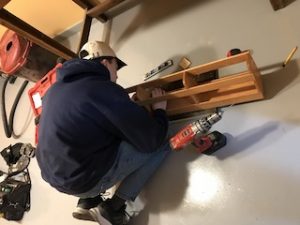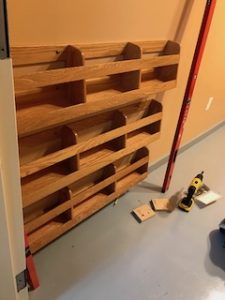 ***
January 2020 – A customer provided very specific measurements and instructions for the items he wanted to keep in this box. It includes an interior divider, creating a smaller channel 2″ from one side. The interior is lined and built with Aromatic Cedar. Let us build something for you!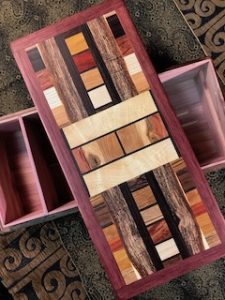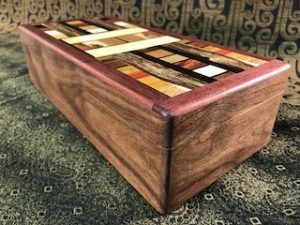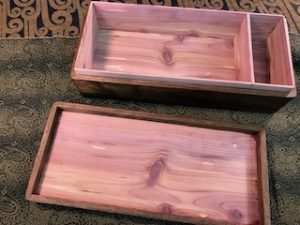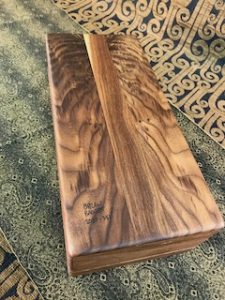 ***
August 2019 – A gift to Emmett Chapman, inventor of the Chapman Stick musical instrument. This is in celebration of the 50th anniversary of the discovery of his "Free Hands" technique of guitar playing…which led to his creation of the Chapman Stick five years later.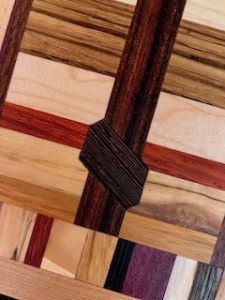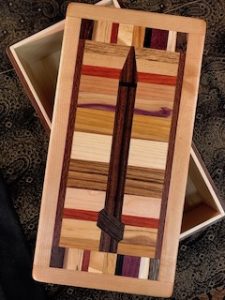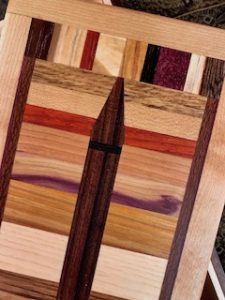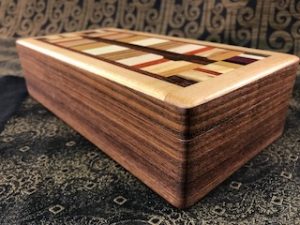 ***
March 2019 – We have fun creating things we've never done before…like these two twin roll-top boxes modelled after the original (dark colored) that the customer provided, with Oak plywood from a desk built by her late husband! This local patron wanted to give roll-top boxes to her children, like the one they grew up…but from a desk that her late husband created. She also found where her husband had signed a small piece of trim, so we worked that into one of the boxes. The two side pieces and bottom are from the Oak plywood desk. The rest is Maple and Walnut, with Wenge and Padauk around the nameplate piece.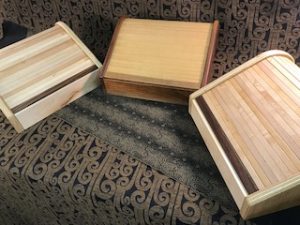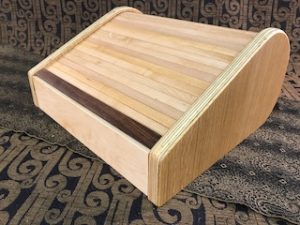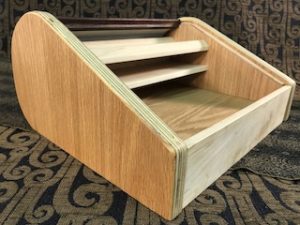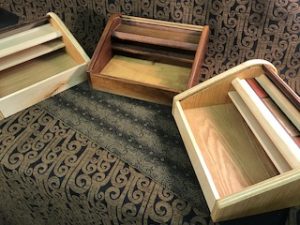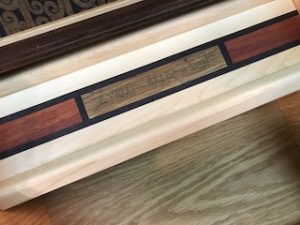 ***
February 2018 – Our largest box yet! Custom designed to hold 18 spools of leather working thread. Measuring at 32 X 17 X 7.5 cm. Two interior channels of Maple each measuring 14 X 14 X 6 cm. Made of Cherry with Purple Heart corner pins and a 33-piece mosaic top. Finished with Tung Oil and bees wax. All the bells and whistles here!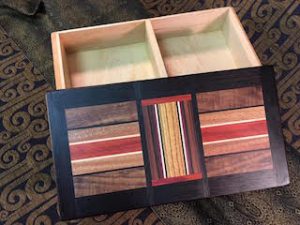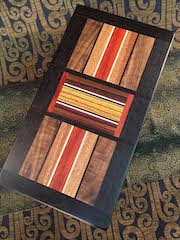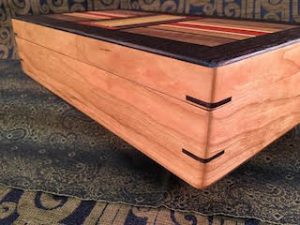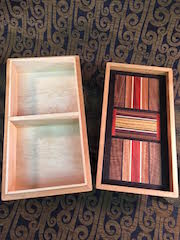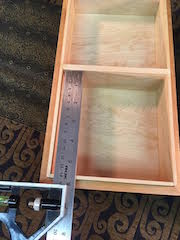 ***
January 2018 – A mid-sized (palm size) friction-top box was designed for special game cards for a role playing game. This custom order measures at 15 X 10 X 4.5cm with a Padauk base, single channel Maple interior, and a 19-piece laminate mosaic top. Brian incorporated Purple Heart accents with locally grown Lilac to match the game cards. Finished with Tung Oil and local bees wax.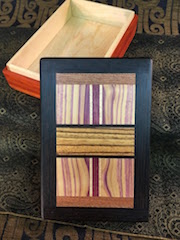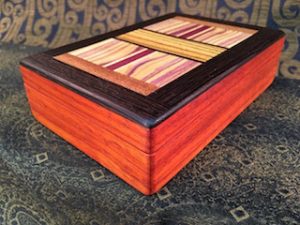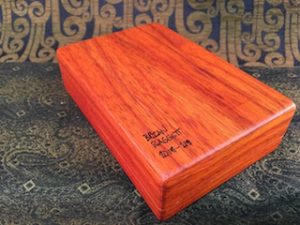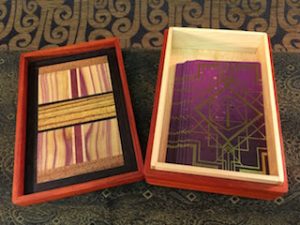 ***
October 2017 – This custom Chess Piece container was ordered by a Fort Qu'Appelle couple. Designed to hold official tournament-sized pieces, the customer requested a slide lid box with a base wood of Cherry and a wax, satin smooth finish. Brian came up with a "chess-theme" 24-piece laminate lid. This box also features two interior compartments: a black side (Wenge) and a white side (Maple). Larger than our standard Friction-top boxes, this measures at 28 X 17.5 X 8cm (11 X 7 X 3 1/4 in)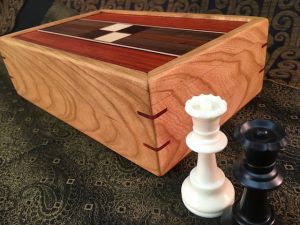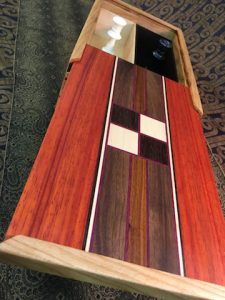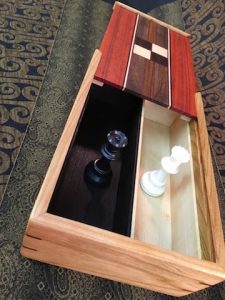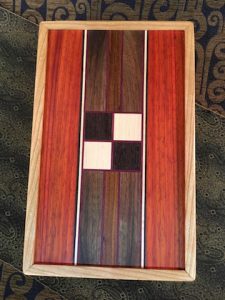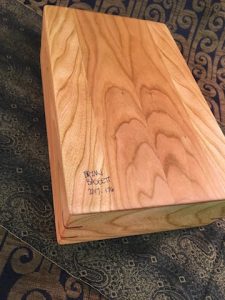 ***
May 2016 – Custom picture frame. Made from Wenge (1cm thick, 4cm wide). Tung oiled with clear coat sealer.