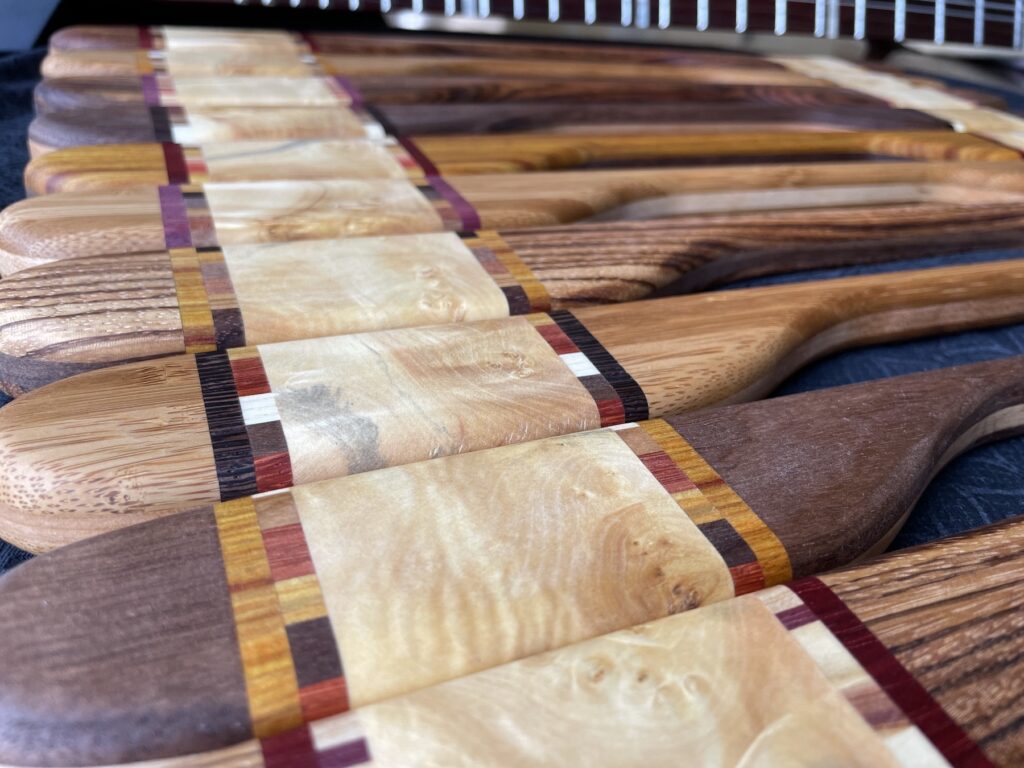 For players of the Chapman Stick. A Lap Bar can make lengthy rehearsing and performing more comfortable in a seated position. The Lap Bar lies flat on each thigh while the Stick's belt hook straddles the thin, middle section.
Brian Baggett on Lap Bar use and advantages: "I made one for myself around 2018. I started feeling slight pain in my lower back due to wearing an external belt for Stick playing. The Lap Bar puts the instrument's light weight on your thighs instead of pulling a belt down your lower back."
Each Lap Bar is made with a triple laminate of hardwood and measure at 50 x 4.2 x 1.8 cm (19.5 x 2 x .75 in). And each feature decorative end pieces in Brian Baggett's signature mosaic designs (no two are alike).
$135 Canadian Dollars each, plus $30 shipping to Canada, $35 to the US, or $50 shipping world wide.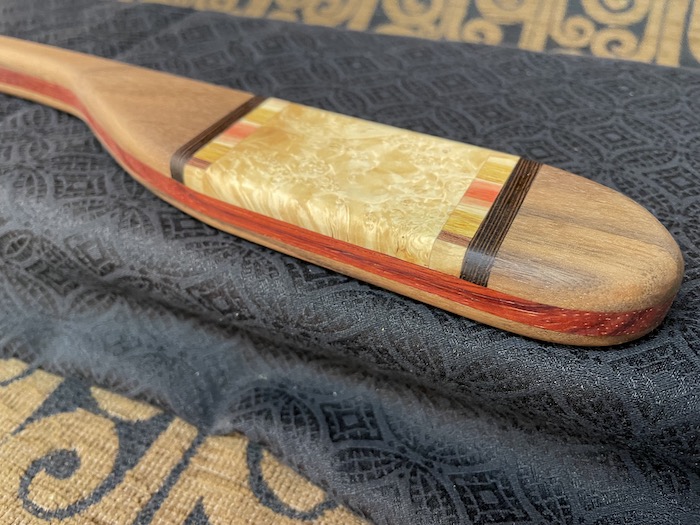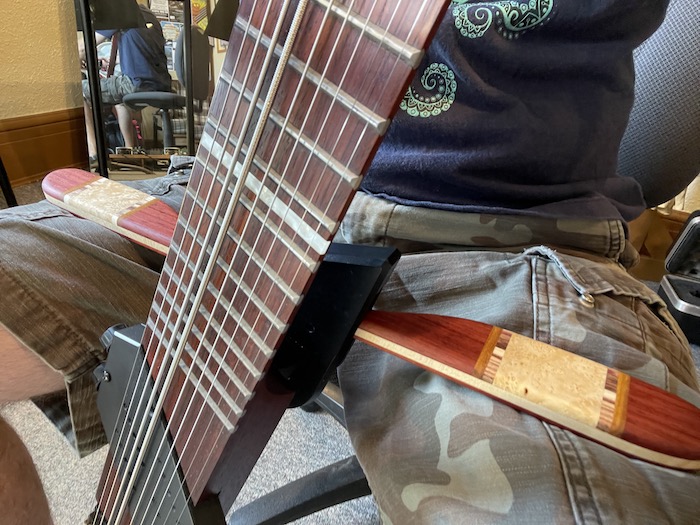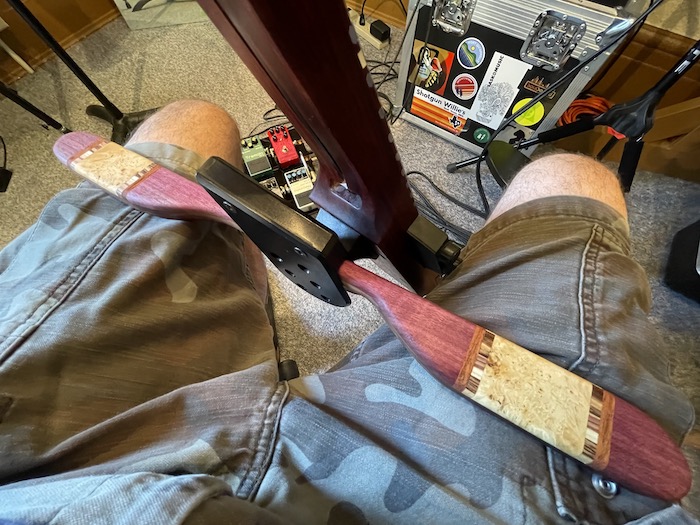 Testimonials:
"Hi Brian, I have now done some longer practice sessions with the lap bar and have already gotten used to it. The playing position is only minimally different than usual and really relaxed. Thanks again and the lap bar is really beautiful and absolutely unique." – A. Kaeding (Germany)
***
"Got my wonderful LapBar from Brian Baggett a few weeks back! Not only is it functional, it's a piece of art by itself! Thank you Brian for this awesome piece!!" – R. Mukerji (Maryland, USA)
***
"Thank you, Brian. I received this beautiful piece of art. And it's really comfortable to play the Stick with this. I love it!" – T. Kuwahara (Japan)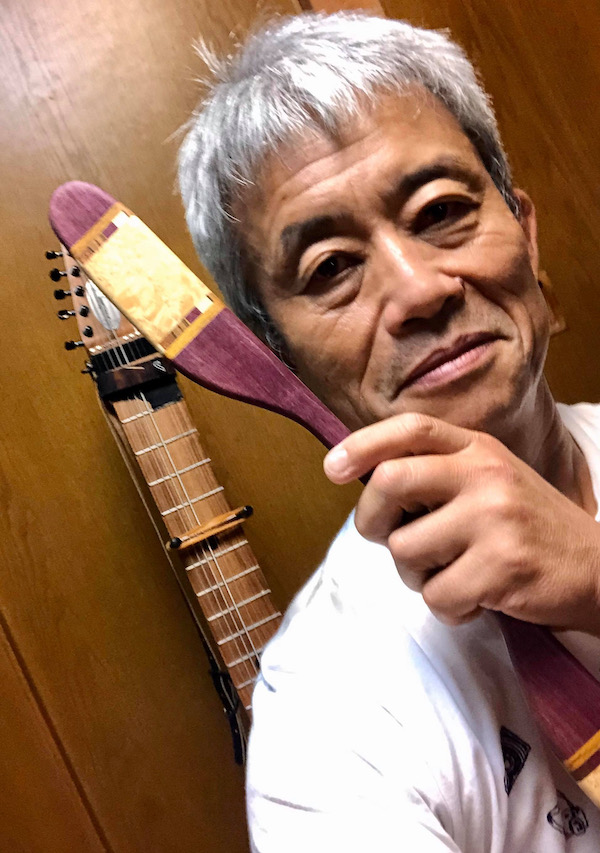 ***
"Dear Brian, the Lap Bar is fantastic!" – O. Mannel (Switzerland)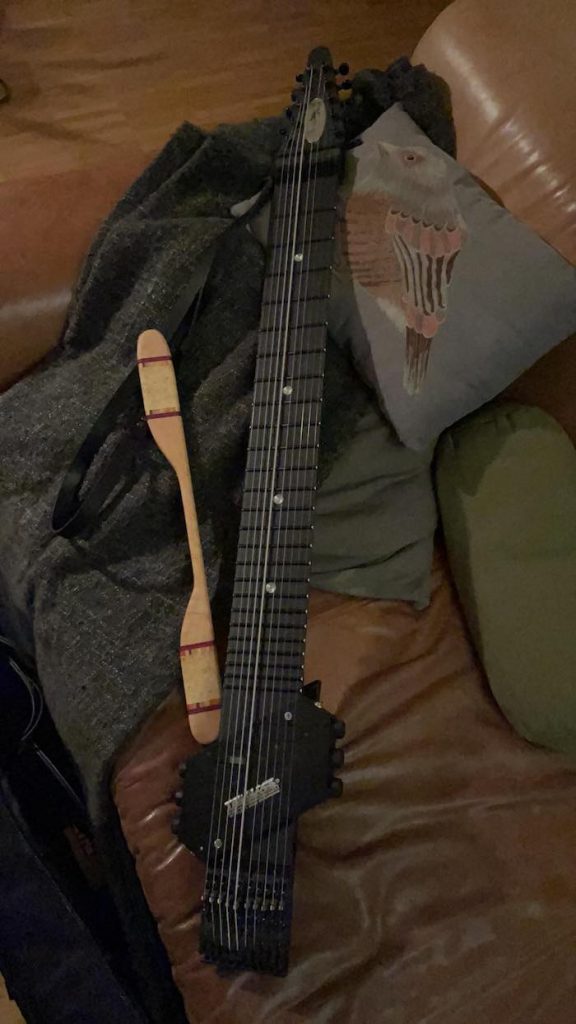 ***
"Hello Brian, Your Lap Bar arrived at my house without any problem. It's really a beautiful object. I hope to make beautiful music with it. It has already found its place on my Stick. Thanks again and good luck. Best regards." – O. Chabasse (France)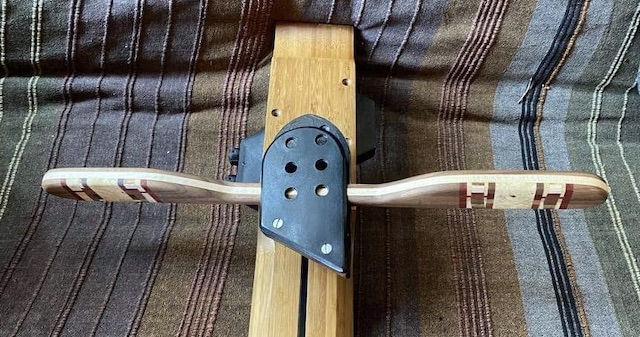 ***
"Boy, Brian, I have to say, honestly, the lap bar is one of the most beautiful man-made objects I have ever held in my hands. Seriously! An absolutely stunning choice and marriage of woods, all beautifully assembled into a work of art! Thank you Thank you!" – B. Farmer (Michigan, USA)
***
Thank you Thierry Carpentier (France) for this entertaining Lap Bar video!
***
"…ordered a Lap Bar and a wooden tea box from Brian awhile back. That guy is totally amazing at what he does. A true artist and a very friendly human being….. I was beyond impressed!" – J. Hellman (Sweden)
***
"Just a note to advise that the lap bar arrived today in excellent condition and very much exceeds my expectations. It's a stunning piece of craftsmanship and I will be very proud to use it going forward. Thank you so much for what you put into the creation of these – they are truly unique and special." – B. Pittock (New Jersey USA)
***
"Hi Brian, thanks for this beautiful lap bar walnut/maple! Yesterday (it) arrived here. Works very well for me; free hands while sitting." – T. Ulrich (Switzerland)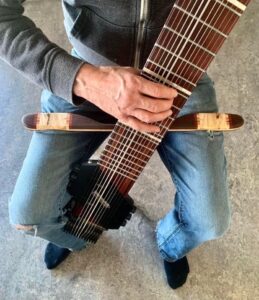 ***
"A piece of art made by (a) stick player for stick players." – B. Bar Levy (Israel)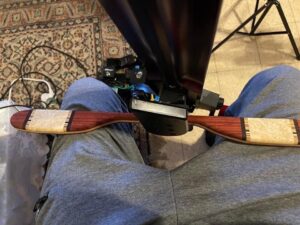 ***
"It looks like a rare combination of beauty and functionality, just like the Stick!" – R. Wilde (Utah USA)
***
"Hello Brian, I just picked up the lap bar from the post office. Thank you very much! It's a thing of beauty! It's so nice to look at the depth of the wood grain and the different colours. But now I have a problem: My Stick looks so dirty on it, now I'll need to clean it!– (Luckily new strings arena the way, so I will be able to do that soon.) I'm looking forward to trying it out in practice tomorrow when I'll be using it in rehearsal for several hours." – J. Korn (Germany)
***
"I received the bar about 10 days ago and have been using it since. It works very nicely with my 12 string grand stick and is equally beautiful…the lap bar is lovely. Good work and I look forward to perusing your upcoming models on the site.All the best" – C. Jones (France)
***
"(The Lap Bar)…it's considerably more comfortable than the belt method." – A. Grumelli (Italy)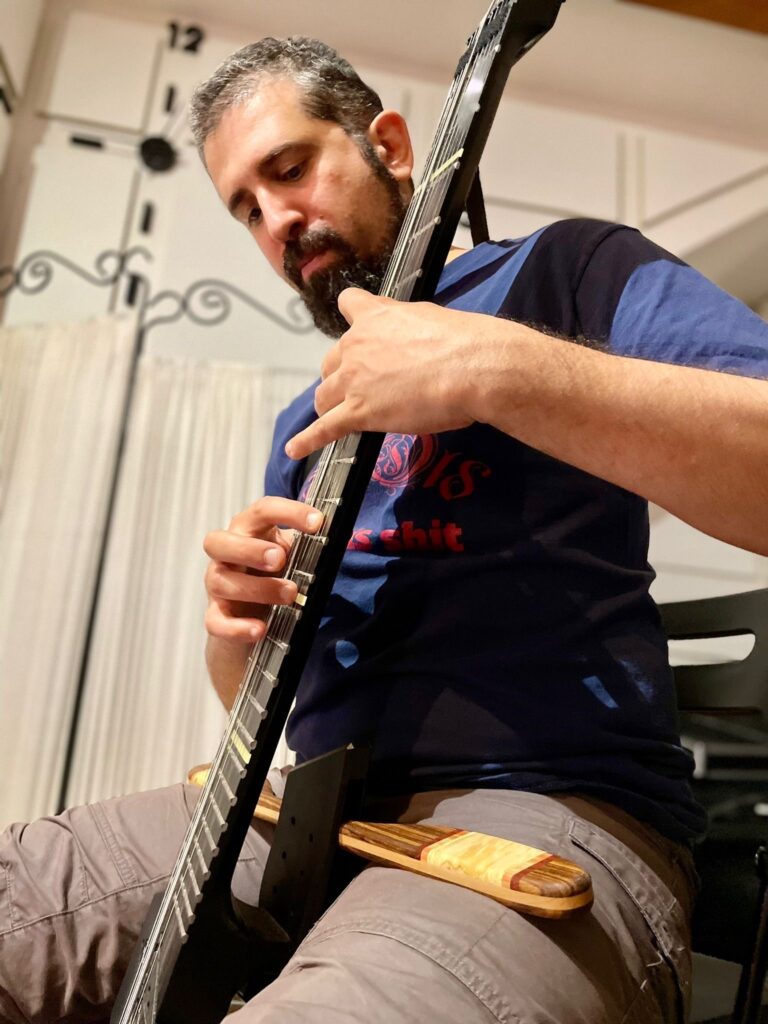 ***
from J Castella (Spain)
***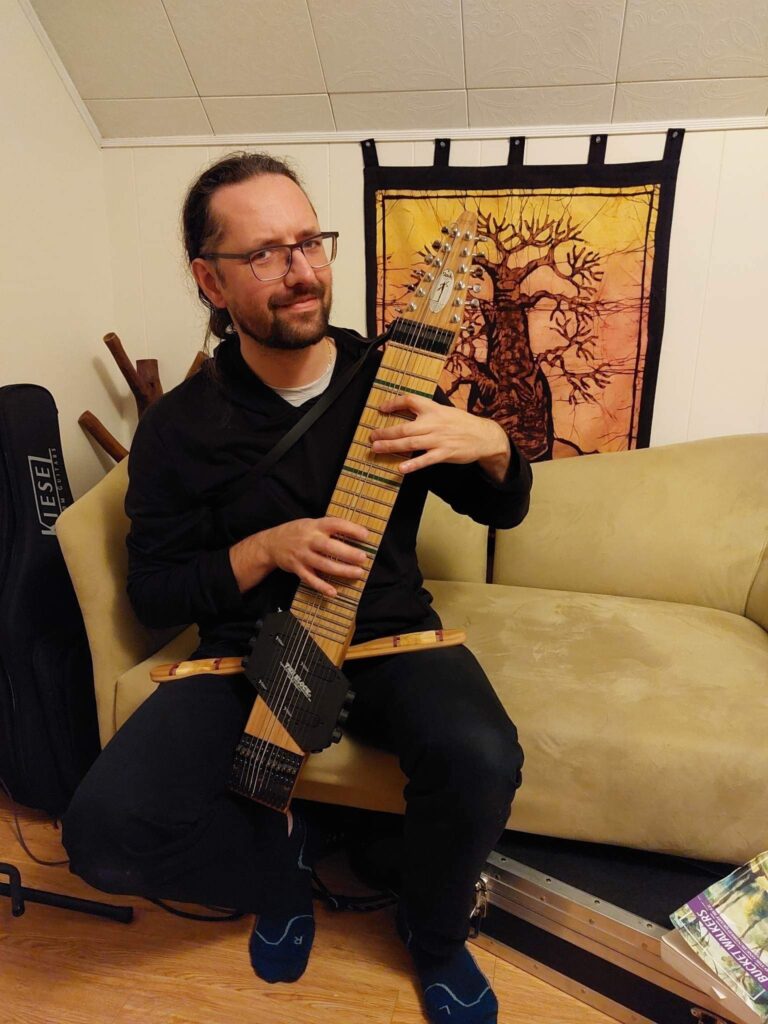 K. Kisiel (Canada)
***
"Hey man, the lap bar came in yesterday…looks incredible!!! Used it and all seems great. Thank you for making such a cool product. You have some amazing wood working skills." – Nate Figlar (Pennsylvania USA)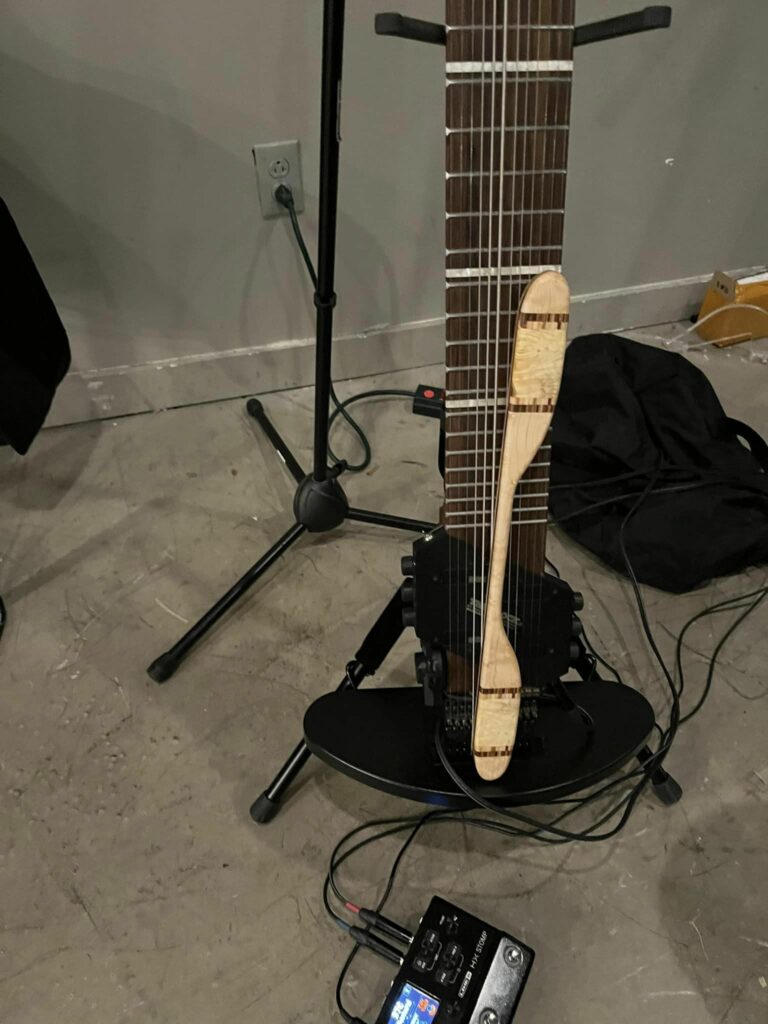 ***
"Brian's craft work is full of details and beauty that makes the Lap Bar an excellent complement for a wonderful instrument like the Chapman Stick. I really love the design, textures and colors chosen and I appreciate so much that he could send it from far lands, thank you so much!" – C. Gonzalez Avila (Chile)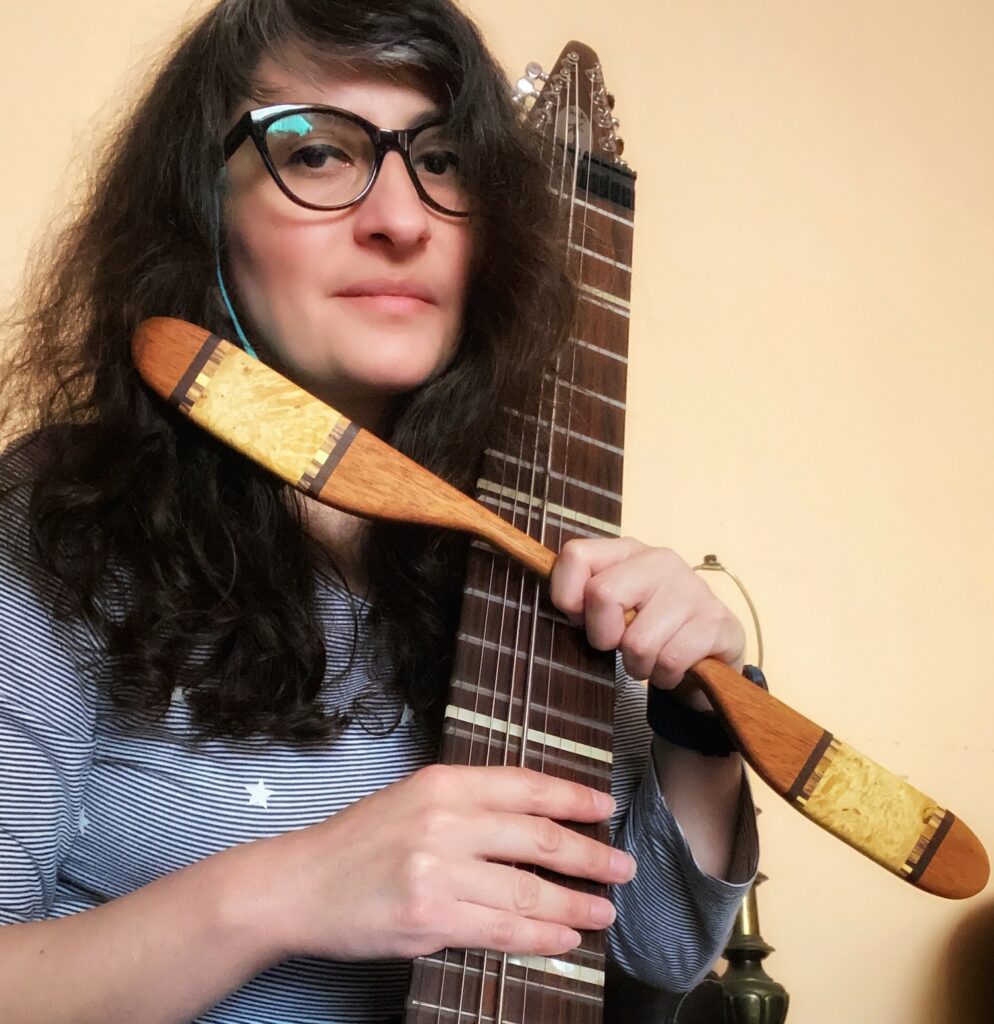 ***
"Hi Brian, I received the lap bar and it is truly a beautiful work of art! It is already getting lots of use." – P. Rahn – (Colorado, USA)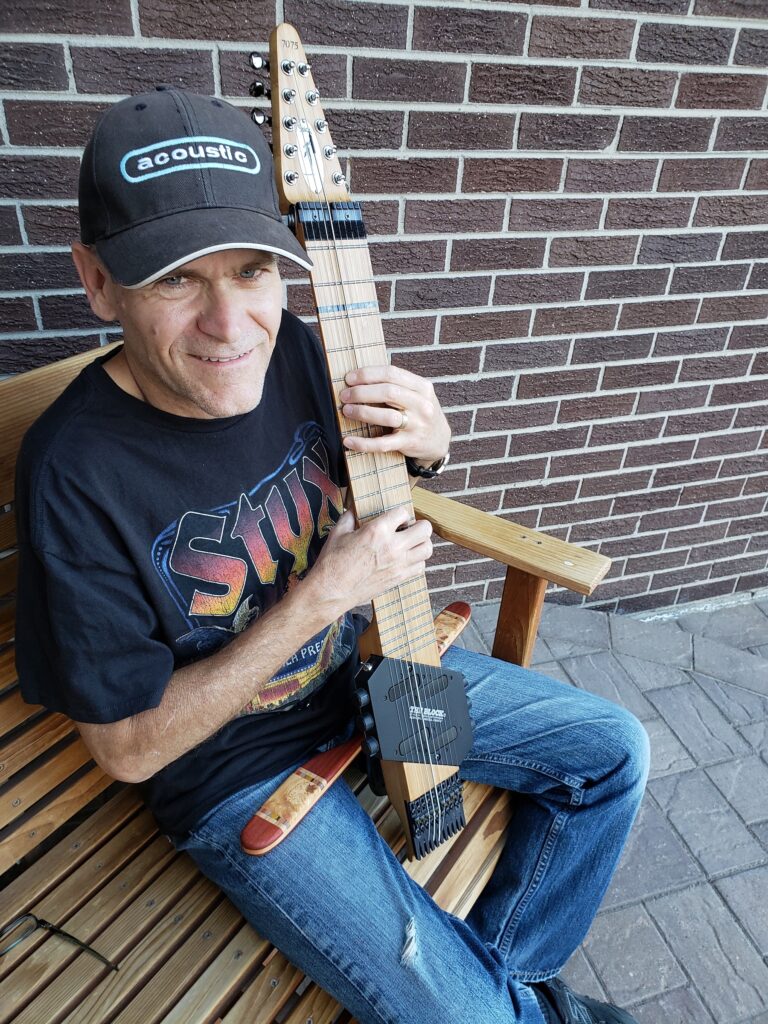 ***
"I received your lap bar in the mail this afternoon, and it's absolutely gorgeous. I was caught between your "Ash with Purple Heart" and your "Curly Cherry with Maple". I am however, very happy your work I wound up settling on; the beautiful grain pattern catches the light so nicely. The packaging was stellar, with the lap bar safely encapsuled, not to mention the icing on the cake with the address written on scrap wood, and the note written on the paper bag. Lovely touches.
I've been having a great time exploring the stick so far, and your bar makes it so much more comfortable to play the instrument, especially when compared to the previous method of a second belt I was using temporarily." – J. Milne (Ontario, Canada)
***
"I received the lap bar last week and… jaw-dropping congrats on a quietly-spectacular work of art! It's just beautiful and to my endless thanks it's built far more robustly than I'd expected from the online pics...Indelible impression of "If you're going to build it, build it like you mean it" as a lifelong maxim, and your lap bar passes that test handily. So copious thanks from a happy customer. " – G. Gerig – (California, USA)
***
"Brian – This Lap Bar is excellent. So much easier to use, lighter, out of the way, and more stable. And I don't have to have anything screwed into the back of the Stick that wasn't already there." – S. Wedel – (Washington, USA)